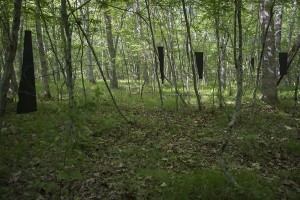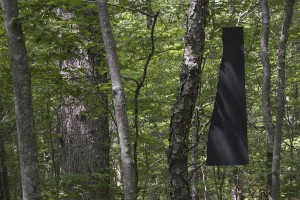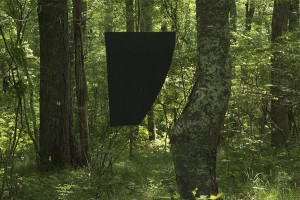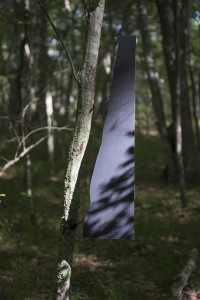 'Shadow Circle' 2015
A site-specific installation during my residency at I-Park, East Haddam Ct
May 15 – June 8 2015
Shadow Circle explores the play of light and dark. Twenty-five deep-green panels of shaped plywood are mounted at a consistent height at varying distances from the designated path. The edges of each panel are shaped to match the particular contour of its tree. On a bright day the invented 'shadows' are meant to be lost and found in the dappled forest light and draw attention to the intervals or in-between spaces. The cumulative recognition of the panels suggests a roughly circular interior. These introduced 'shadows' also overlay the remains of a previous piece (horizontal wood strips painted black and white) that marked light and shadow in the same forest glade.
note: to protect the trees, the panels are mounted with minimal wire supports and pruning sealer has been used on all fastening points.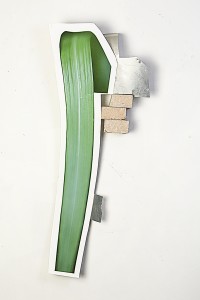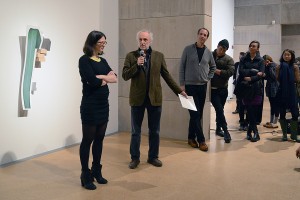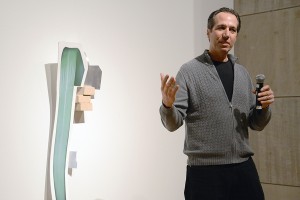 Picture/Thing
January 29- March 1, 2015
Ezra and Cecile Zilkha Gallery, Main Gallery, Middletown, Connecticut
K. Baker "Untitled #24", 2014 46" x 20" x 7" inkjet print, aluminum, fire bricks, steel
Picture/Thing presents ten artists—Kendall Baker, Isidro Blasco, Rachel Harrison '89, Leslie Hewitt, Jon Kessler, Anouk Kruithof, Marlo Pascual, Mariah Robertson, Erin Shirreff, and Letha Wilson—who make hybrid objects that challenge the limits of photography and sculpture at a time when the definitions of the two media continue to evolve. These artists take varying approaches to material, technology, and presentation, expanding and redrawing the traditional perimeters of both. Defying photography's specificity as a "window onto the world," some prioritize the materiality of the photograph over the actual image, while others migrate the graphic flatness of the photograph into the full dimensionality of the sculptural realm. Undoubtedly a response to the immateriality and infinite reproducibility of digital technology, the surveyed works insist on both the physical presence and uniqueness associated with sculpture, and the indexical relationship to the physical world exemplified by photography, resulting in a new formulation: a picture/thing.
Curated by Assistant Professor of Art Sasha Rudensky and Professor of Art Jeffrey Schiff