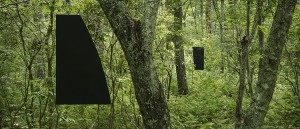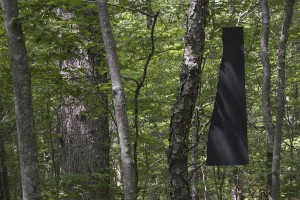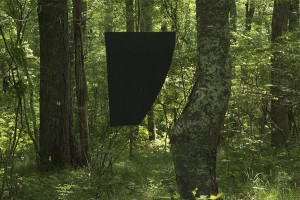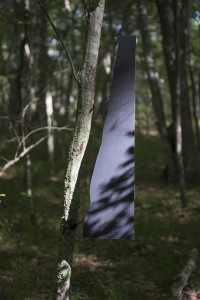 'Broken Line' 2015
A site-specific installation during my residency at I-Park, East Haddam Ct
May 15 – June 8 2015
My 2015 I-Park site project titled, Broken Line, was constructed in a woodland glade along a 200-yard long path whose elevation descended 20 vertical feet. Intermittent trees on either side of the path supported thirty plywood panels whose inner contour matched its supporting tree without making contact. The distance of the panel from the tree was equal to the width of the tree where the panel was suspended next to it. This space allowed the panel to float entirely distinct from the tree while registering the tree's specific angle and dimension. As the land gradually slopes downward from path's origin, the height of all the panels remains constant. The initial panels are low to the ground and then appear to rise along the sides of the trail until well overhead when the trail ends.
Implied or intuited in the cumulative reckoning of the intermittent markings is a suspended geometric plane that the viewer may sustain from the experience. The attenuation of this intuited plane as a mental construction seen overlaid on the external landscape is the goal or intention of the project. The imaginary planar construct that the viewer projects outward into 'mind-space' must contend concurrently with the lush omnipresence of the natural environment that remains whole and inchoate.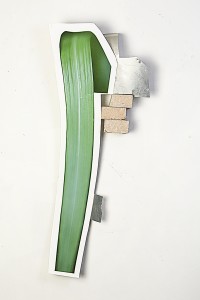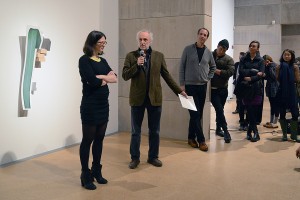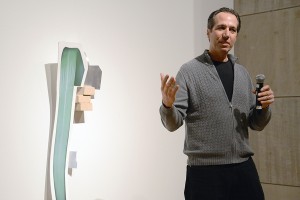 Picture/Thing
January 29- March 1, 2015
Ezra and Cecile Zilkha Gallery, Main Gallery, Middletown, Connecticut
K. Baker "Untitled #24", 2014 46" x 20" x 7" inkjet print, aluminum, fire bricks, steel
Picture/Thing presents ten artists—Kendall Baker, Isidro Blasco, Rachel Harrison '89, Leslie Hewitt, Jon Kessler, Anouk Kruithof, Marlo Pascual, Mariah Robertson, Erin Shirreff, and Letha Wilson—who make hybrid objects that challenge the limits of photography and sculpture at a time when the definitions of the two media continue to evolve. These artists take varying approaches to material, technology, and presentation, expanding and redrawing the traditional perimeters of both. Defying photography's specificity as a "window onto the world," some prioritize the materiality of the photograph over the actual image, while others migrate the graphic flatness of the photograph into the full dimensionality of the sculptural realm. Undoubtedly a response to the immateriality and infinite reproducibility of digital technology, the surveyed works insist on both the physical presence and uniqueness associated with sculpture, and the indexical relationship to the physical world exemplified by photography, resulting in a new formulation: a picture/thing.
Curated by Assistant Professor of Art Sasha Rudensky and Professor of Art Jeffrey Schiff